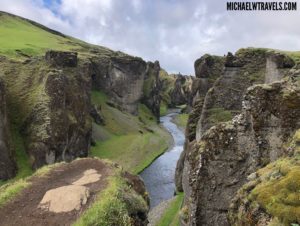 It's hard to believe that it was just a year ago that the Michael W Travels family visited Iceland.
We all had an incredible time during our road trip around the country. We loved Iceland so much that I was close to booking trips back a couple of times.
Iceland is filled with probably some of the most of amazing natural sites in the world. While doing research, we never expected to find an incredible canyon to visit thanks to Justin Bieber!
Prior to heading off on our trip, Kim and I came up with an itinerary. The plan included doing a lot of driving which would allow for us to see a good amount of sites around the country. When we arrived in Iceland, we continued to do research to see if anything else worth visiting might be in the vicinity of where we'd be going.
I'm pretty sure that Kim came across an article about an amazing canyon made famous by Justin Bieber.
While neither of us are fans, when a superstar makes a canyon famous for having filmed a music video there, odds are pretty high that it's going to be impressive.
From what I recall, prior to Justin Bieber filming the video for "I'll Show You" at Fjaðrárgljúfur in 2015, it wasn't very popular with tourists. Since then, it's gotten so crowded that the the canyon has had to close to visitors to minimize the impact on the environment.
From the parking area, a nice walk will take you to a couple of viewing platforms. (Along the way there are other places worth stopping to admire the views and to take some photos.)
The views of the canyon are pretty spectacular and I'm definitely glad that we didn't skip the site.
This is the view from the upper platform.
It was hard to be in a good photo which also showed just how amazing Fjaðrárgljúfur Canyon was.
The lower platform is just a short set of stairs down from the upper area. It almost looks like a diving board or a place to go bungee jumping.
From here, the views were pretty great too.
Final Thoughts:
Fjaðrárgljúfur aka Justin Bieber Canyon was an amazing natural site to visit. I am glad that we came across it and were able to visit. 
Hopefully the area is protected and around for visitors to enjoy for years to come. It sounds like closing the site from time to time is the best option to allow this natural environment to recover from over-tourism.
Find out more about Fjaðrárgljúfur here.
Related Posts: