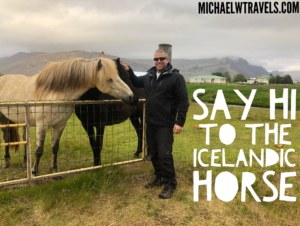 The Michael W Travels family started off summer 2019 with a trip to Iceland. During our visit, rather than rush around the whole ring road, we focused on covering sites in the south.
While away, we saw many unique sites, primarily natural and some man-made.
Kim and I came across flyer for a petting zoo and  thought it might be a good idea to stop by for the kids. The thing is, it didn't really sound overly exciting when reading more about it online.
Also, it didn't really make sense to pay to get into a petting zoo when we could make stops during our journey to mingle with an Icelandic horse!
The Icelandic horse stands out due to its long mane and short and powerful body.
The first time I pulled over, Kim and the kids stayed in the car while I took some photos. I couldn't get to close, since there was an embankment separating them from the road.
Then, one night we were driving back to our hotel and I saw some horses close to the road, behind a fence. I didn't know what to expect, but to my delight, a couple of the horses quickly came over.
After petting them and taking some photos, Lucas got out of the car and had an amazing time.

He looked at the horses and kept a short distance.
Some of the horses came closer to get a better look (or some attention).
Then, with some encouragement, he decided to pet an Icelandic horse. Look at the smile on Lucas's face!
We stopped again, at a different spot the following day. The two horses behind the fence ran right over to us and were as friendly as could be.
After we pet the horses, I offered them a rice cake. No, they weren't fans.
If you're traveling around Iceland and want to interact with some furry friends, make sure to stop to say hello to the Icelandic horse.