OK, so if you're making a special trip to Peter Luger, I know you'll most likely want to try their famous steak (and I don't blame you) but hear me out on this one…
Peter Luger is considered by many to be the best steakhouse in New York City. If you want to get in, odds are pretty high that you'll need a reservation which needs to be made a month in advance.
I've had steak at Peter Luger and it is really good but it's also really pricey. If you ask me, a better option for visiting this historic restaurant is to head over during the day to give their awesome burger (available until 3:45pm) a try.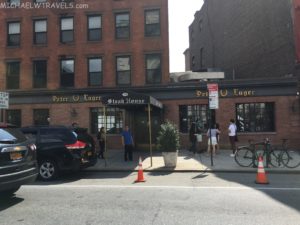 Peter Luger was opened in 1887 in Williamsburg, Brooklyn. There's also a second location in Great Neck, Long Island. (I've only been to the Brooklyn original.)
While I do enjoy a good steak, I find myself usually more satisfied by an awesome burger.
The burger is described as USDA Prime, over 1/2 lb on a bun. At $14.95 it isn't the cheapest burger out there but it's pretty much a bargain when you consider the size and taste as well as where you're dining.
I just about always order cheese on my burgers so I added it for $1.50.
The Peter Luger burger comes open-faced with a slice of raw onion which I remove.
This is a big burger which might require two hands to get a hold of. Even if it doesn't, you're not going to want to put it down. It's just that good!
The menu doesn't state what cuts of meat the burger is made from but I've read in the past that it's from trimmings from Luger's famous steaks. Awesome but at a fraction of the price!
The burger is so full of flavor that it's hard to describe and it doesn't need much added to it. I typically add ketchup to my burger but at Peter Luger, I pretty much eat the burger as is. I might have a few bites with the delicious Peter Luger sauce but it really isn't needed.
Overall, Peter Luger serves one of the best burgers that I've ever had. It might just be my favorite!
Have you tried the burger at Peter Luger? If so, let us know what you think.
Peter Luger is located 178 Broadway in Brooklyn, NY.
Related Posts: