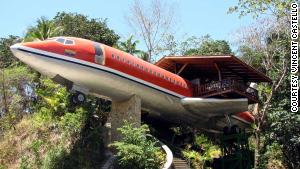 Last year I wrote about a Yahoo News article that I came across which caught my attention. The article was about a man who turned an old airplane into a home. This sounds like the dream home for aviation buffs out there but I'm not too sure that this would be my idea of a great place to live.
Recently I came across another article, this time from CNN about creative ways to recycle an airplane. Again the man, Bruce Campbell was mentioned along with a few others that have turned airplanes into homes.
There are some other interesting ways that airplanes have been recycled.
Here are the ways:
Furniture

– MotoArt sells things like sculptures, tables, chairs and beds. I had read about this company a while back. bordbar converts airline trolleys into things like filing cabinets and minibars.

Floor and Wall Tile

– Coverings ETC makes Bio-Luminum, a building material made from recycled aircraft aluminum.

Boats

– A 1939 Boeing Stratoliner was made into a boat which could reach 13 knots. It was owned by Howard Hughes and Jimmy Buffett. The current owner bought it to live aboard in 1981. The boat is currently open for tours out of Ft Lauderdale, Florida.

Houses

– Besides the house mentioned above, a couple of others are mentioned in the article. David Hertz, an architect designed a Malibu mansion from a Boeing 747 and Project Freedom has two planes, a MD-80 and a DC-9-41 made into a home.

Hotel

– I've heard of these before and the article lists a few hotels created from old airplanes. There's a luxury hotel in Costa Rica, a budget hostel at Stockholm's airport and an Airplane Suite in the Netherlands.

Artificial Reef

– A Boeing 737 is now the home of 100 sea species thanks to the Artificial Reef Society of British Columbia.
There are a few other things made from recycled airplanes listed in the article as "anything else". Find out what they are and get more info about each of the things listed above in the full CNN article HERE.
Photo Credit- CNN News, Courtesy Vincent Castillo