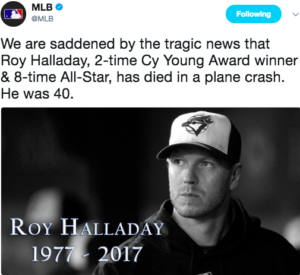 Roy Halladay was one of the best pitchers in Major League Baseball until he retired back in 2013.
Tragedy struck earlier today when Halladay, 40 years old, died in a plane crash in the Gulf of Mexico, off the coast of Florida.
Halladay was the pilot of the plane, a new ICON A5 which he had recently purchased. The small plane has two seats and it wasn't reported whether or not anyone else was onboard.
The ICON A5 costs around $400,000 and planes can be reserved for just $5,000. The plane has foldable wings, can takeoff and land on water and also has a very interesting safety feature. The A5 has a Complete Aircraft Parachute (CAP), which ICON says "has more than 300 documented lives saved."
ESPN mentions that, "Halladay recently received his pilot's license" and if you look through Halladay's recent Twitter feed you'll see lots of tweets about the ICON A5.
10/13 "I have dreamed about owning a A5 since I retired! Real life is better then my dreams!!"
10/17 "I'm really not big on posting pic's of my stuff and I'll never be on Cribs… but this A5 is so outrageous I'd feel guilty not sharing pics!"
10/31 "I keep telling my dad flying the Icon A5 low over the water is like flying a fighter jet! His response….. I am flying a fighter jet!!"
Roy Halladay had a brilliant baseball career and was one of the best pitchers in MLB during his time with the Toronto Blue Jays and Philadelphia Phillies from 1998 through 2013.
During that time he had a 203-105 record with a 3.38 career ERA. Highlights include being one of six pitchers to win Cy Young Awards in both the AL and NL. He was also named an All-Star 8 times. In 2010, Halladay pitched a perfect game and then a no-hitter during the post-season.
Roy Halladay will be eligible for the Hall of Fame in another year or two. Could he be elected posthumously? He'd get my vote.
It's a sad day in baseball.