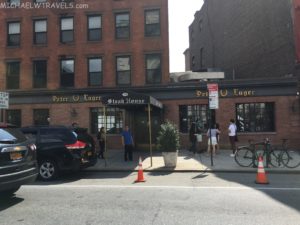 Peter Luger Steak House is well known for their steaks but we go there for their incredible burger. I highly recommend trying it.
We've been to the original location in Brooklyn many times. There's also a location in Long Island which we've never tried. (There's also a location in Tokyo!)
I recently found out that the world famous steak house will be expanding again.
Eater reports that, "Peter Luger Steak House Brings Its Legendary Dry-Aged Steaks to the Las Vegas Strip in 2022."
Luger will be opening their Vegas location inside Caesar's Palace in the former space where another NY import, Rao's was located.
In a city already known for a wealth of great dining options, this is definitely a nice addition. I'd love to give the Vegas Peter Luger a try when it opens to see how it compares to the OG. (I'm also in need of a trip to Las Vegas, it's been years!)
Find out more from Eater here.